Home / About Us/ Pasitos de Luz History
It was 1999 when Yolanda Sánchez decided to dedicate her life project to helping children with disabilities and their families. Our charity evolved from one woman's vision and dream.
Our Beginnings – Yolanda's Story
Humble Beginnings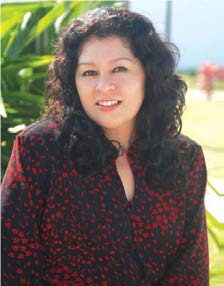 My name is Yolanda. I am the third of 12 children in the Santiago Sánchez family.
We were a poor family. I used to help my mother with taking care of my brothers and sisters. My father worked to provide for all 14 of us in my family. My mother dedicated her entire life to taking care of all 14 of us and in ensuring we could make ends meet.
None of us were able to achieve a full education. My father worked in a job based on commission only; he did not have any regular salary or employment benefits such as medical insurance for either himself or for us.
At the age of 10, I decided to go out and find a job. Fortunately I was able to find a casual job with my neighbors, taking care of their children, washing dishes, cleaning their homes or running errands to earn some money and be able to help support my family. This was common for all of us in the family. Typically, after finishing an apprenticeship or high school, the older children and I would have to put our studies on hold in order to start working to provide for the family. We were not able to further our education until we were could afford our own studies.
I don't recall ever visiting a hospital or a doctor until after I was married. We didn't know what the inside of a hospital looked like. Unfortunately, this was all about to change.
Tragedy Strikes
In 1994 everything changed for us. My sister Astrid Elizabeth, aged 19, fell ill during high school around the time of her final exams. At that time, she was also helping to organize the school prom that would take place in a month.
Astrid was a good daughter and a wonderful sister, in addition to being beautiful and intelligent. She was very mature for her age. She enjoyed eating healthily and exercising. She also enjoyed singing and acting and had a lot of friends who shared her interests.
After she fell ill, she visited a total of 14 doctors, but not one of them was able to accurately diagnose her condition. They prescribed medication which had no effect whatsoever and her condition continued to deteriorate. She lost a great amount of weight, could not eat, and could barely swallow liquids through a straw because her mouth and throat were covered with blisters, which she described as being "very painful". Even drinking water was difficult for her. She wasn't able to sleep well and fell into a deep depression as her illness continued to get worse. She realized she was not going to be able to attend her graduation.
My mother and I took her to Mexico City and once again a doctor incorrectly diagnosed her condition. From there we took her to an excellent hospital, and it was there that we met Dr. Hoyo, a Japanese doctor who analyzed my sister's mouth and was able to determine her symptoms. She performed a biopsy and the diagnosis was: "Pénfigo Vulgar" (a dermatological condition). Hers was only the fifth case she had seen in all of Mexico. It was still a relatively unknown condition in the medical world.
Coping with the illness
Once my sister was back home, we all had to learn to cope with her illness. It was very difficult, especially for a young lady who had suddenly lost her fiancé, her beauty and her strength. She was challenged both mentally and physically.
At this point she only weighed 70 pounds (~32 kilograms). She had gone from being a happy, optimistic person, with a lot of love towards life, to being very depressed, due to the side effects of tranquilizers, and also in seeing herself and how much her face and body had changed during her illness. At that time she was being treated with 200 mg of cortisone per day. This led her to attempt suicide by taking a bottle of 200 tablets. The doctors were able to save her, but she tried a second time and a third time, and on all occasions she was resuscitated.
I used to want to be able to teach my younger sister life lessons but I ended up learning more from her than I expected. Taking care of a chronically ill person taught me to always be prepared for the worst.
By this time, I knew all about pain, emergencies, and what going back and forth in an ambulance was like. I knew all the hospitals. I experienced desperation and powerlessness, knowing that we lacked resources and medical knowledge, and also experienced the anguish that is felt when someone close to you wants to take their own life. I know that anyone who has had a friend or relative with a serious illness, whether it's physical or mental, will be able to relate to that.
All our family went through very difficult times. We held faith in new medicines, but as the days passed and desperation took hold, we came to realize that all those medications had no effect. Her illness spread throughout her lungs, which meant that every two days she had to be treated with a supply of oxygen.
Then, in January 1997, my sister Astrid Elizabeth read a book called "I have seen the Light". When she finished she simply said: "I am ready, I accept my illness with peace and I put myself in the hands of God".
Death brings new beginnings
One night, on December 31st ,1996, we spoke to the doctor and he told us: "Nothing more could be done". I didn't want to accept the fact that she was going to leave us at such a young age; she was too young and still had her entire life ahead of her…
Astrid Elizabeth died due to a respiratory collapse on May 23rd, 1997, on our mother's birthday.
I learned that when you're standing strong, you can do something for others. I realized we need to make the most of the short time that we spend here on this earth, as everything that we buy or own, is only temporarily ours. I have now learned that we should never give up in the face of adversity, never allow ourselves to be swept away by the suffering, nor ask for it to be over.
My sister's absence has changed me in so many ways; she has taught me how to help. I felt that I had to do something for others in the depths of desperation; those that have had to fight for years, like parents with a disabled child. They live through one emergency or crisis after another and need someone that they can lean on for support. After becoming a volunteer, I realized I could help these families even more. I found that my vocation in life was to be dedicated to children with disabilities.
On December 2nd, 1999, I joined a group of  eight mothers of children with different disabilities. We began to work together with their children in just one room of a house. I learned that when everything in a family seems like a battlefield, there should always be a special "Light" somewhere along the way which should help to guide you and lighten the load.
That is how "Pasitos de Luz" came into being.
Pasitos de Luz ("Little Steps of Light")
Pasitos de Luz was founded with all the enthusiasm and love that I feel for the children. It gave families the chance to be able to work and bring some money home. Many of them weren't able to hold down a decent job, since having a child with special needs is very demanding due to all the extra attention and care that they need.
We started with virtually nothing; we only had two boards to help children stand up, a baby-walker and two cribs, a few dishes and an excellent physiotherapist who taught us a great deal.
We rented a place as a base for the charity, then another, finally moving to a half-built house that was lent to us, owned by my husband. Slowly but surely, we were able to adapt it to the children's needs. This house is where we resided until January 9, 2017, when we took the exciting step of moving into a brand new, purpose-build facility called Casa Connor, located thirty minutes north of Puerto Vallarta. Casa Connor has its own inspirational story.
In early 2000, the local mayor suggested that it would be best if we went to a public notary to officially register ourselves as a civil association. That is how Mamás Unidas por la Rehabilitación de sus Hijos A.C. (Mothers United for the Rehabilitation of their Children A.C.) came to be officially recognized as an association on November 22nd, 2000.  
More commonly, our charity is called Pasitos de Luz which, translated, means "Little Steps of Light".
We have continued to grow since our humble beginnings as a group of eight mothers, and we now offer more services than ever before. We not only offer help for disabled children, but also for their families.