Home / Our Services / Therapy/Rehabilitation
Our therapy programs include physical therapy, early stimulation, occupational therapy, hydrotherapy and electrotherapy sessions.
Rehabilitation at Pasitos de Luz is an interactive learning process between the therapist, child and family, involving the implementation of procedures to achieve optimal results for the kids, taking into account their residual capabilities. Our aim is to achieve a better quality of life for the children and their families.

Kids like xiomara make quick progress in our hydrotherapy pool
Physiotherapy and Hydrotherapy
Through modern physiotherapy and hydrotherapy, we have been able to achieve great results in the recovery of our children from accidents, acute illness, chronic sequelae and diseases. We have also enabled children with physical disabilities from birth to achieve greater ranges of motion and greater control over their movements. Our name Pasitos de Luz means 'Little Steps of Light', which makes it even more special when one of our kids takes his or her very first steps.
Our children are looked after with special attention to detail and within an environment of love and compassion. Our professional hands-on staff offer many different kinds of therapy. Therapists provide one-on-one care to the kids, working on positioning, strengthening exercises, stretching techniques and support. These techniques are also taught to the families to try to encourage sustainable therapy outside of Pasitos, so that children are looked after adequately in their own homes.
Alternative Therapies
In addition to providing physical/occupational therapy, multiple early stimulation, hydrotherapy and electrotherapy sessions, we also offer alternative therapies through our Temazcal, as well as music and dancing. The children have demonstrated increased confidence and self-esteem from their accomplishments by participating in alternative therapies.
Temazcal
A temazcal is a traditional Mexican steam bath that promotes physical well being and healing as well as being a ritual and spiritual practice. The therapeutic temazcal helps to relax and detoxify the body, stimulate the lymphatic system, aid blood flow and calm the mind. The temazcal has been used by Aztec and Mayan cultures for more than 2000 years. The temazcal can help by relaxing the muscles and nervous system, stimulating digestive and respiratory systems and eliminating toxins.
Dance & Music
Dance movement is a therapeutic form of exercise. Dance therapy for children with special needs has numerous benefits and advantages. Music and dance affect everyone differently. Children with limited mobility can express themselves and express their emotions. Dance and music are fun ways for the children to relieve stress, increase physical fitness and improve gross motor skills including strength, balance and coordination.
Drumming During Our Music Therapy Classes Is A Joyful Group Activity
Massage Therapy
Massage therapy is an integral part of our therapy programs. One of our most experienced massage therapists is Eliseo. His story is part of the heart of Pasitos de Luz.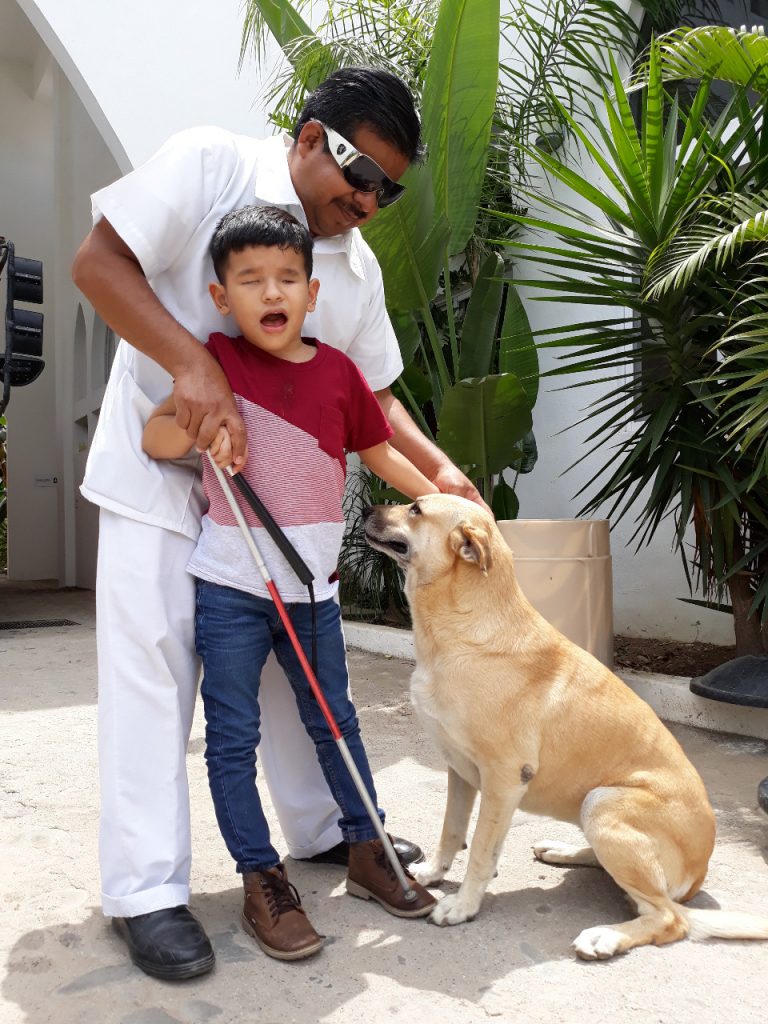 Blind from birth, Eliseo grew up in Tuxtla Gutiérrez, the capital city of Chiapas state. Eliseo has been working at Pasitos de Luz since 2008. After arriving in Puerto Vallarta, he decided he wanted to help other people with disabilities, to offer them the love and support he never had.
Eliseo gives massages to our most frail and physically underdeveloped children. "I love it when the children respond to the muscle stimulation I give them" he tells us. "I feel like I wake up their senses and, slowly but surely, they start getting to know their own bodies through these sensory waves" he says.
Eliseo's personal experience has been vital to him supporting other blind children to develop self-confidence and a sense of purpose in life. Alexis is a little boy who was born without development in his eye sockets. He could not even walk when he came to Pasitos. Thanks to Eliseo's careful mentoring, he learned to walk with a cane and learned to interact with the world around him.
Eliseo shares these profound words, "what counts is each person's mind and personality, not their disability. If you cannot understand that, then you are blind even though your eyes can see".