---
Home/ Other Ways to Help/  List Of Necessities
Goods donated in kind are always welcome and very gratefully received. We have ongoing needs, such as diapers, cleaning products, staple foods etc, but also some items that colleagues have requested specially for their areas. These are 'Wish List' items, which you can see below.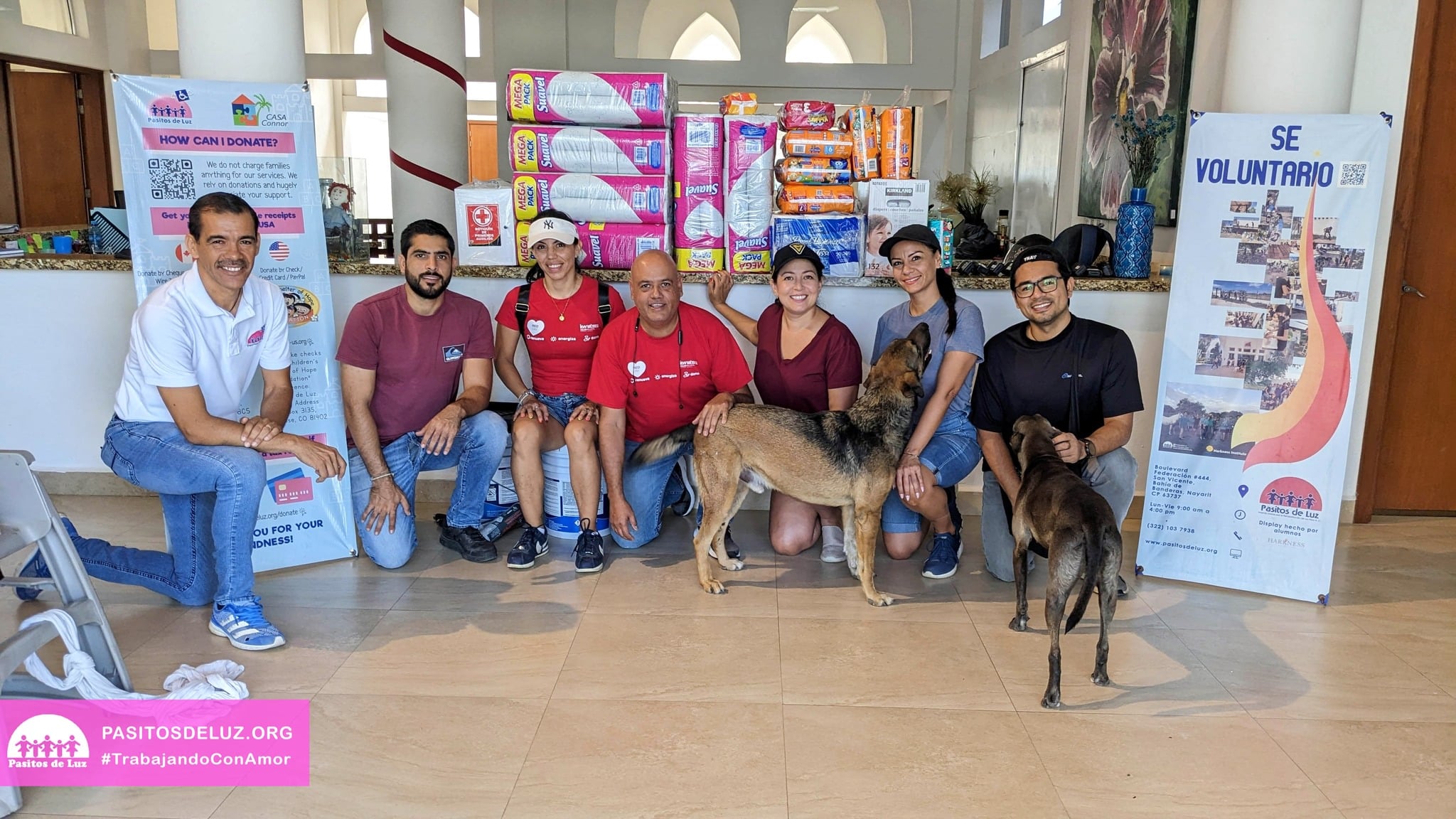 If you are able to support us by donating in-kind, please get in touch by email at or phone/WhatsApp on +52 322 137 1890 so that we can help coordinate your donation. Thank you in advance for your kindness!
Our needs by area:
Cleaning Products – Ongoing Needs
Large black trash bags ('jumbo' size)

Liquid hand soap (ideally: 'equate' brand)

Toilet paper (ideally: Suavel or Pétalo brands)

Transparent trash bags ('medium' size)

Washing detergent (ideally: Roma brand, large 5kg or 10kg bags)

 
Daycare – Ongoing Needs
Air freshener sprays (ideally: Lysol brand)

Baby powder

Baby wipes

Diapers – Stages 3,4,5,6 and 7

Hair cream (ideally: Sedal or Pantene brands)

Shampoo (ideally: Pantene Pro V, large bottles 1.13L)

 
Infirmary – Wish List!
Stretcher kit (includes accessories such as neck braces), Approx cost: $315 USD

 
Kitchen – Ongoing Needs
Condensed milk (ideally: Lechera brand, packet of 8)

Ground coffee (ideally: San Marino brand, 1.3kg)

Lentils

Milk (ideally: full fat, Nutri Leche brand, box of 10 cartons)

Soy sauce

Sugar (ideally: large bags, 1kg)

Tinned tuna in oil (ideally: large tins, 1.8kg)

Washing up powder (ideally: Salvo brand, 1kg bags)

 
Kitchen – Wish List!
Blender (Vitamix Professional Series 750, 64 oz.), Approx cost: $700 USD

RECENTLY DONATED!

Pressure cooker (15 litre), Approx cost: $120 USD

RECENTLY DONATED!

Saucepans for cooking eggs

RECENTLY DONATED!

Set of stainless steel ladles, Approx cost: $30 USD

RECENTLY DONATED!

Stewpot (15 litre, stainless steel)

RECENTLY DONATED!

Utility cart (zinc-plated steel finish, 3 levels), Approx cost: $145 USD

 
Physical Therapy – Wish List!
Barrel Roll Tumble Form for improving balance, Approx cost: $750 USD

Bosu Balance Trainer, Approx cost: $175 USD

Compress Heater

Fine and gross motor skill toys

Physical Therapy wedges and bolsters, Approx cost: $230 USD

Play structures

 
Special Education – Wish List!
Filing cabinet with lock

Kids shorts with elastic waistbands (part of the Pasitos de Luz uniform)

Large drums for music class

Medium-sized toy box

Paints for arts & crafts – both acrylic and watercolour

Sensory learning materials for children with visual impairments

Shelving unit
Thank you for making a difference!