Helping Dario achieve his dream of becoming a massage therapist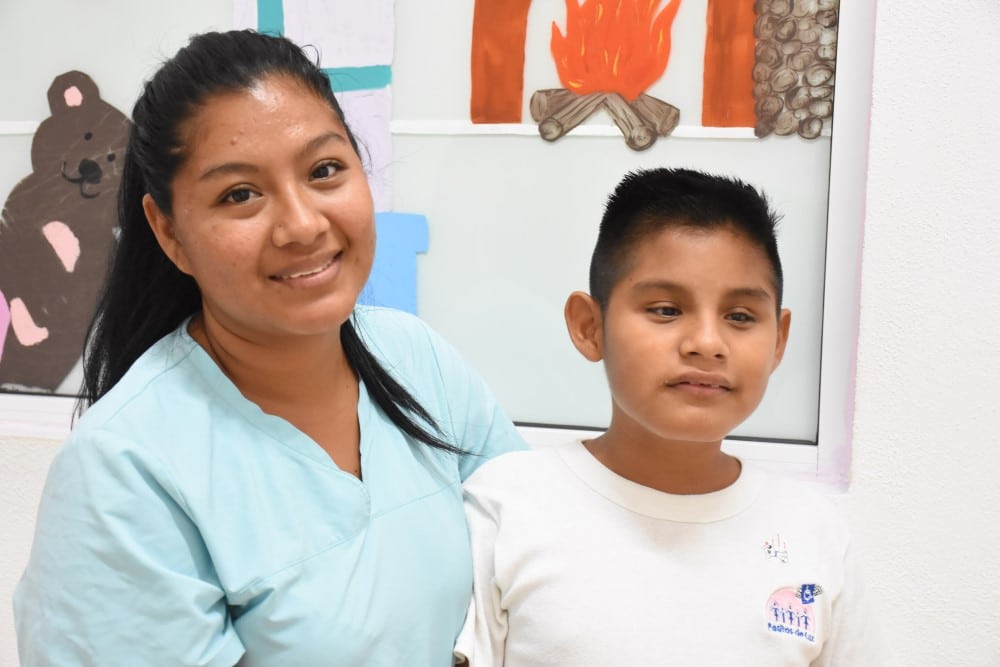 Elizabeth, or Eli as she is known by friends and family, is just 25 years old, but has already had to face some of the hardest challenges that life can throw at her.
At the age of 14 she became a mom for the first time, giving birth to twin boys, Dario and Daniel. The twins were born prematurely, at 27 weeks. Dario was the weaker of the two, and was kept in a neonatal incubator for 55 days. This was understandably a very worrying time for Eli, still just a girl, as Dario battled for his life. Things became even more worrying when she was told that, while Dario would survive, his time in the incubator had left him blind. This was devastating news for both parents.
Eli admits that she struggled to accept Dario's blindness. It wasn't what she had hoped for and, as a young girl who had not even celebrated her fiesta de quinceaños (15th birthday party), she was too immature to know how to cope with the disappointment. She felt depressed and found it difficult to balance the responsibilities of looking after twins. Eli and her partner went on to have one more child, a baby girl, but life became even harder when the father walked out on the family and left Eli to look after three children, all by herself.
Eli wanted Dario to learn Braille and how to use a walking stick properly
As Dario grew, and Eli also grew in confidence and maturity, the young single mom began to do everything she could to give him the best possible start in life. She enrolled him into kindergarten and says that, in spite of his disability, he made friends and started to become more independent. He then progressed to elementary school. However, Eli began to notice that her son was becoming increasingly withdrawn, isolated and frustrated, unable to keep up with his classmates academically because there were no allowances given by teachers for his blindness. She wanted Dario to learn braille and also learn how to use a walking stick properly. She began to look for a school that offered education for children with blindness.
Eli and her family live in La Misión, a working class neighbourhood about 25 minutes drive from Casa Connor. She says that it is not her ideal place to live, since there is a higher than average rate of crime there, but it is all she can afford. She pays $195 USD per month for a small 2 bedroom apartment. When a teacher at Dario's school told Eli about Pasitos de Luz in late 2019, explaining that we offered a special program for blind children and that everything was provided free-of-charge, she immediately got in touch to arrange a consultation. As a high priority family, Eli was told that Dario could start the following month.
Every day, Eliseo and Dario set out to explore Casa Connor together
Dario's progress at Pasitos de Luz has been remarkable, largely thanks to the mentoring given to him by Eliseo, our blind massage therapist. Dario arrived as a timid boy, nervous of his surroundings and of the people around him. Now he is friendly and sociable, keen to give hugs and ask questions. He is also very confident with his walking stick. Every day, Eliseo and Dario set out to explore Casa Connor, Eliseo helping his young charge to navigate the corridors, locate important places like the toilets, classrooms and canteen, and find the exits to get out into the garden. Eli says that Dario used to be very resistant to using his walking stick. Now it is his most prized possession!
Eli's desire for her son is that he becomes an independent and self-confident young man, able to fend for himself. She would love him to study for a profession. Dario says his dream is to become a massage therapist just like Eliseo. He is taking regular braille classes at Pasitos de Luz, and also sits in on some of Eliseo's therapy sessions, learning the basics, an important step to turning this dream into a reality. 

We are confident that Dario will achieve his dream and go on to great things, and are committed to helping him every step of the way. Eli says that words cannot express how grateful she is to everyone that supports Pasitos de Luz and makes dreams possible for children like Dario. We also thank you, our donors and supporters, for opening your hearts to families in need here in Puerto Vallarta and Banderas Bay.