We are running activities and we are hoping you will join us and participate! Please have a look at some of our activity ideas! We will be adding more, so please check often. If you have ideas, please let us know!
Activity 1 Kids Helping Kids (Bracelets)
Hi, my name is Shelby. I am 11 years old and I live in Fort McMurray, Alberta. I became involved with Casa Connor in 2019. I volunteered to help set up the Calgary Fiesta event last year. I want to help this year too.
I've decided to make elastic loom bracelets! These are fun to wear; you can give them as friendship gifts or stocking stuffers for Christmas, or keep them for yourself!
All of the money raised will go directly to the Canadian Children's Shelter of Hope Foundation for Pasitos de Luz/Casa Connor. Look cool and show off your pink and blue to support Pasitos de Luz or just choose your favourite colours!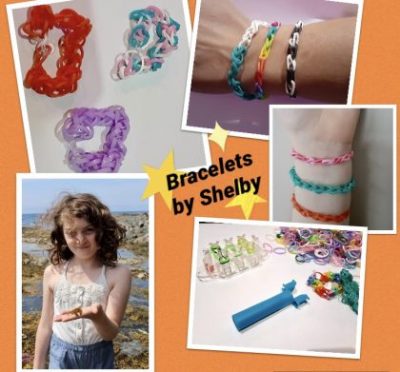 Details:
– one size fits all
– your choice of colours
– a matching friendship bracelet pair $8.00
– single bracelets $5.00 each
I can't wait to start making your special bracelet!! Please help me help the kids at Pasitos de Luz/Casa Connor. Please email Shelby via Erica to place your orders. Erica will arrange payment and delivery with you! Looking forward to hearing from you! please email Erica at
Shelby says – Covid 19 has really affected the way families living in Puerto Vallarta that have kids with special needs live and cope. The only way we can help them, and beat this virus, is together!
Activity 2 Kids Helping Kids (Bookmarks)
Hi, we're Noah (age 13) and Emma (age 17).  Emma attended Emily Follsenbee School at the same time as Connor.  We have attended the Casa Connor event as a family for the past several years, and Noah also volunteered at the event in 2018 and 2019. This year, with the event being online, we are excited to be involved with Kids Helping Kids. We are making bookmarks, and are selling them for $4 each.  Bookmarks make great stocking stuffers, and we have several different designs to choose from.  Pictured here are a few of the bookmarks that we have made so far.  Every dollar that we raise will be donated to Pasitos de Luz at Casa Connor and generously matched by anonymous donors until December 14th.

If you are interested in purchasing  a few bookmarks, please contact our Mom, Pam, at
Payment will be accepted via e-transfer, and we will mail the bookmarks out to you.  Thank you for helping us raise money for the children and families of Pasitos de Luz at Casa Connor.

Activity 3 Bottle Drive 
We will be setting up a bottle drive in Calgary in the near future. Please check back for details on how you can get involved!
Activity 3 Climb for Casa Connor
Do you want to take fundraising and fitness to the next level? Then we have a great opportunity coming! We are excited to announce that we will be doing a stair climb for Pasitos de Luz/Casa Connor in Calgary
Our goal is to raise more public awareness of who we are, fundraise for much needed financial support, and have fun! People of all ages and fitness levels will be welcome and encouraged to participate. Talk to your friends, family, co-workers and join us to Climb for Casa Connor!
Details coming soon….,,
Do you have ideas for other community activities? We would love to hear from you! Please email Erica at