Fashion Show 2019 at the River Café
12 January, 2019 - 12 January, 2019
Join us for our most stylish event, benefiting Pasitos de Luz – Saturday 12th January
We are absolutely thrilled to announce that our charity Fashion Show is back in 2019, this time with some exciting changes and updates. For our 6th annual (and ever popular!) fashion and luncheon event, we will be back at the stunning River Café. However, this year we have something new to whet your sartorial appetites.
After a number of years working with the wonderful Deja New Consignment Clothing, Kathleen has indicated she is not available to take part in this year's show. As a result, we have decided to collaborate with new designers and suppliers, whom we are very excited to announce here. We would like to thank Kathleen Palmer and her team at Deja New for their fantastic support over the years. Gracias!
Our designers and suppliers for 2019…
Caroline Del Mar Collective
Our clothing this year will come from a local and upcoming designer, Caroline Caliz, whose fashions are all made in Puerto Vallarta, and which she sells at the Saturday Olas Altas market. Caroline specialises in light-weight, comfortable, versatile and elegant clothing that has the flexibility to go easily from day to night. Caroline will be showcasing several types of fashion, all custom-made for our Fashion Show, as well as some children's clothes. See her creations here www.carolinedelmar.com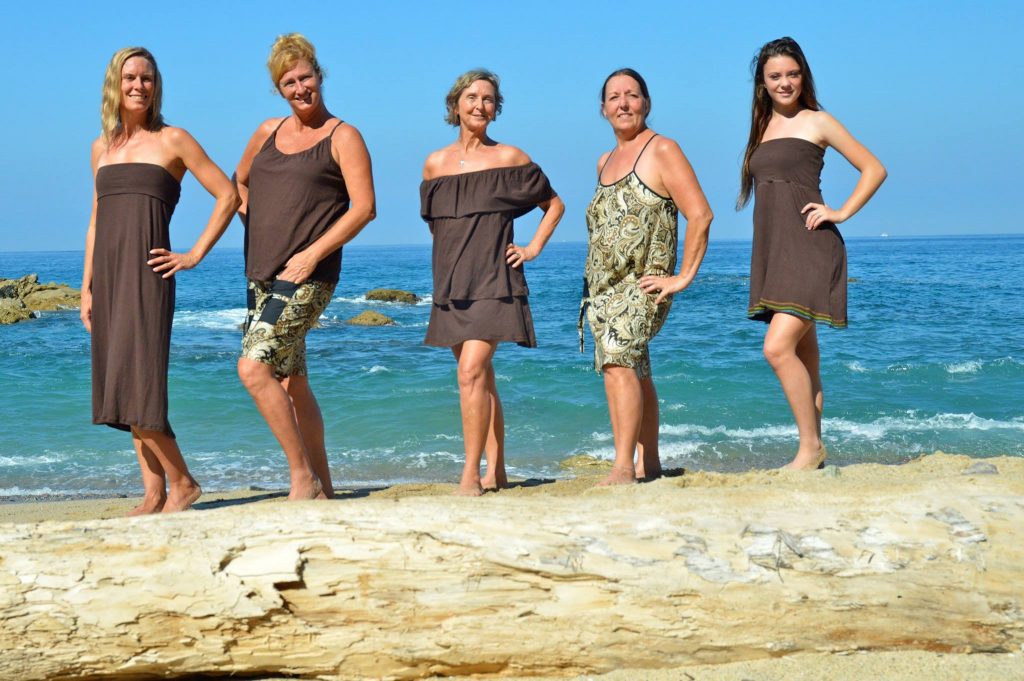 Cassandra Shaw Jewelry
We are delighted to welcome back Cassandra, and her jaw-dropping jewelry, for another Fashion Show. Cassandra and her creations have been at the forefront of jewelry design in Puerto Vallarta for nearly two decades, and her store on Basilio Badillo is a must for anyone looking for something stylish, unique and inspirational. Her designs are known for displaying very interesting natural stones, fossils and bones to showcase the beautiful silver that Mexico is so well known for. Learn more about Cassandra's work here www.cassandrashaw.com
Lila Arte Cautivo – handbags from recycled plastic
At this year's Fashion Show, we are absolutely delighted to be showcasing something that truly reflects our commitment to ecological sustainability. We were completely won over by Lila Arte Cautivo when we approached them to take part. They specialise in producing artisanal, highly colourful and ecologically beneficial handbags, which are now being exported all over the world. All their bags are made from recycled plastic. Their mission is 'to fill the world with Mexican colors'.
Hair and make-up by Luis Germany of Salón Malecón
Last, but by no means least, we have the pleasure of welcoming back the extremely talented Luis Germany of Salón Malecón to do the hair and make-up for all of our amazing volunteer models. Luis has 25 years of experience and has practiced in both Mexico and the United States. Salón Malecón serves both men and women and offers color specialty, eyelash extensions, manicure & pedicure, hair extensions, hair repair treatments. The salon and staff are involved in and recognized within the community and provide gift certificates and auction items for events. Thank you Luis for supporting our event once again! Find out all about Salón Malecón on their Instagram page or by searching 'Salón Malecón Puerto Vallarta' in Facebook.
Tell me more!
Envision yourself sitting with friends in a fabulous venue, watching a great fashion show and enjoying a delicious 3 course meal, while helping a worthy cause. You will be treated to a wonderful meal, while models of all ages, sizes and walks of life approach your tables to showcase our fashions, which you will then have the option to buy. Our event also includes a 50/50 draw and outstanding auction and raffle items generously donated by businesses and individuals in the community. So chances are, as well as having a great time, you will not go home empty handed.
How can I get tickets?
Tickets for the Fashion Show will go on sale in early November, so please check back here then. Tickets will be $450 MXN. If you have any questions, or want to express an early interest in going, please get in touch with Barb Bremner by email at
Thank you for supporting Pasitos de Luz. We love you all.