Charity Bingo every 2nd Wednesday at Nacho Daddy
31 October, 2018 - 17 April, 2019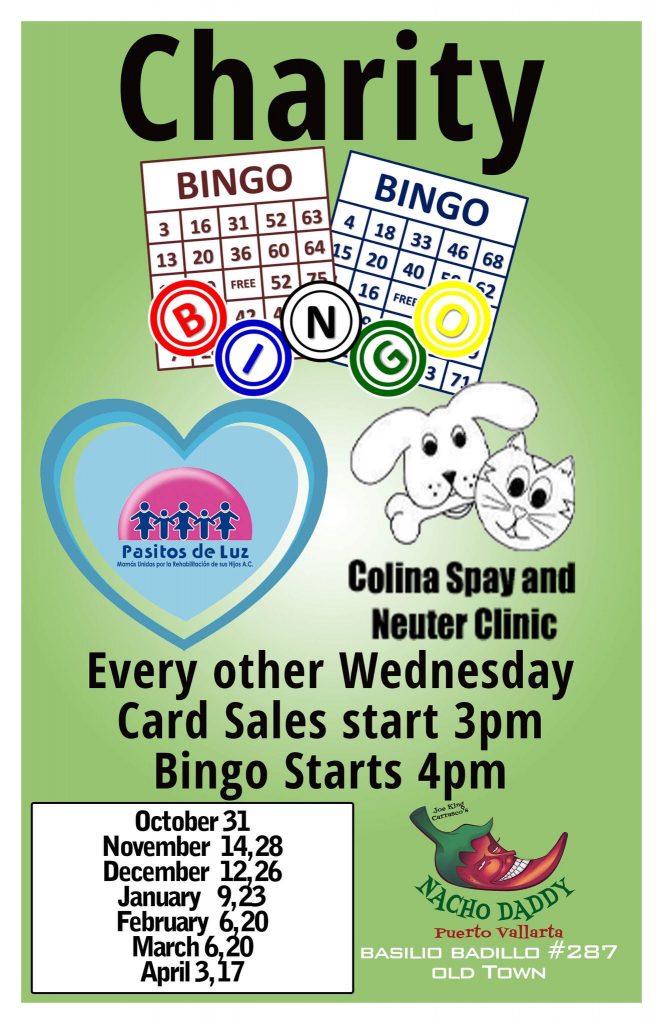 A new season of Charity Bingo returns to Nacho Daddy Restaurant & Bar on Wednesday 31st October, Halloween!If you dress for the occasion, you'll receive a free jello shot, and the Best Costume will win a free VIP Bingo package for the November 14 games!
Nacho Daddy Charity Bingo will be played every other Wednesday at 4:00 pm throughout the Winter/Spring to raise money for Pasitos de Luz and the Colina Spay & Neuter Clinic.
Come play real Old Fashion BINGO, with paper cards and ink daubers, for great prizes generously donated by local restaurants and businesses. Seven three-card regular games cost $100 pesos, or you can buy a VIP Bingo package for $300 pesos, which includes not only cards for all the games but also the final Cash Blackout game, which pays the winner half of the cash in "the pot," and 5 Raffle tickets.
No matter which game package you choose, you can buy as many extra cards as you want (at 3 for $100 pesos) for the Cash Blackout game to increase your odds of winning the Big Bucks! Previous winners received incredible cash prizes that ran up to $4500 pesos in cash!
Increase your chances of winning even more by bringing gently used clothing to donate to the Pasitos de Luz account at Deja New Consignment Clothing and you will receive 1 free Bingo card for each of the 7 regular games.
To help round out the spirit of the games, Nacho Daddy offers Bingo players a variety of food and drink specials from their yummy menu, so come out, support local charities and enjoy an afternoon of fun and fantastic prizes! Cards go on sale at 3:00 and the games begin at 4:00 pm.
The 2018-2019 Charity BINGO Schedule is…
October 31
November 14 & 28
December 12 & 26
January 9 & 23
February 6 & 20
March 6 & 20
April 3 & 17
See you there guys! Thank you from the bottom of our hearts for supporting our charity