8th Annual Riverfest Music Festival - March 2nd and 3rd
02 March, 2019 - 03 March, 2019
Join us March 2nd and 3rd for a fantastic line up of music, food, drink, fundraising and fun!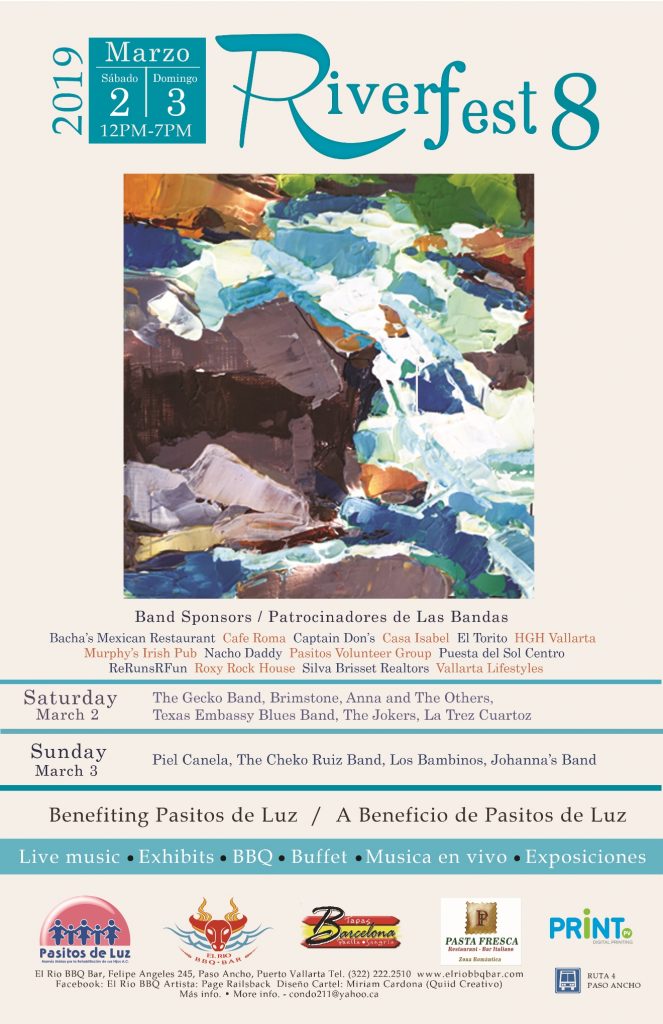 Riverfest is a showcase for local bands/musicians around the bay for the benefit of Pasitos de Luz children with disabilities. The 8th annual Riverfest is once again being held at El Rio BBQ Bar. By expanding the main event to two days, we have been able to spread out the attendees over both days and provide an optimal environment for seating and enjoyment each day. Choose a day or, better yet, come for both days!
Saturday March 2nd
The line-up!
12:00 – The Gecko Band
1:00 – Brimstone
2:30 – Anna and The Others
3:30 – Texas Embassy Blues Band
4:30 – The Jokers
5:30 – La Trez Cuartoz
In addition to some of Vallarta and its surrounding area's best musicians, you can browse artisan exhibits and feast on El Rio's great BBQ along with the bay's best paella provided by Barcelona Tapas and the perfect pasta from Porto Bello. We feature a silent auction, 50/50 and you can even get your hair cut at the event by Alex Daoud from Alexander A. Salon, who donates all his proceeds for the day to Pasitos de Luz!
Admission is only $100 pesos donation per person at the gate which will go directly to supporting the children.
Saturday Patron Tickets…
You can further support the cause and purchase advance Saturday Patron Tickets for $900 pesos per person or a table of 8 for $6,400 pesos (a saving of $800 pesos!). The Patron Ticket gives you:
increased support for the kids
welcome margarita or beer
free snacks and appetizers
gate entry
limited early bird parking
one free serving at the fabulous buffet provided by El Rio, Pasta Fresca and Barcelona Tapas from 2:00 to 5:00 p.m.
priority reserved seating for viewing the entertainment
unlimited non-alcoholic drinks throughout the day and great music!
Sunday March 3rd
We will close out our 8th annual Riverfest on the Sunday with another selection of top bands.
Our Sunday line-up!
1:00 – Piel Canela
2:00 – The Cheko Ruiz Band
3:15 – Los Bambinos
4:30 – Johanna's Band
Gate entry is just $100 pesos, which is excellent value for a fun day out.
Sunday Patron Package…
If you want a great deal look no further! For groups of four people, you can choose to take advantage of an advance purchase Sunday Patron Ticket Package. The Sunday Patron Package for groups of 4 offers you:
Gate entry
Reserved seating
Welcome drink (beer, margarita or limonada)
Family-style service Riverfest Parrillada lunch (includes several types of BBQ, beans, guacamole, rice, etc).
All of this for just $1,500 pesos per group of 4 people. This option is the only way to secure reserved seating on Sunday. It's  a great value and a good opportunity to get together with friends while providing much needed support for our kids!
How can I buy my tickets?
You can buy both Saturday and Sunday Patron Tickets in person by coming out to the Pasitos de Luz table at the Olas Altas Farmers Market on:
Saturday February 9th
Saturday February 16th
or Saturday February 23rd.
You can also buy Patron Tickets by contacting Barb Bremner at until sold out. Please note we have limited numbers of patron tickets available and they typically go quickly.
Please get your advance patron tickets now OR plan to attend by coming to El Rio BBQ Bar and donating $100 pesos at the gate on March 2nd and March 3rd to help us make this our best Riverfest ever and support the children from Pasitos de Luz!
Getting to Riverfest…
We encourage you to take the R04 Paso Ancho bus or arrive by taxi/Uber. For those who prefer to drive we will offer a shuttle service from the designated parking lot to El Rio and back. See you there!
We would like to thank our band presenters!!!
Puesta Del Sol Centro Riverfest Fans
You too can be a band presenter! We are seeking a nominal presenter sponsorship of one band for just $3,000 pesos. With that, you'll be recognized as the presenting sponsor of the band, receive stage announcements throughout the day, be featured in print and social media advertisements and will be given four "free entry" tickets, good for either Saturday or Sunday (value $100 pesos each).
Some great photos from our previous Riverfests…