2nd Annual Charity Luncheon at the River Café on Saturday 2nd February
02 February, 2019 - 03 February, 2019
Tickets are now on sale for our super glamorous fundraising event, now into it's second year, which we guarantee will make you look AND feel great!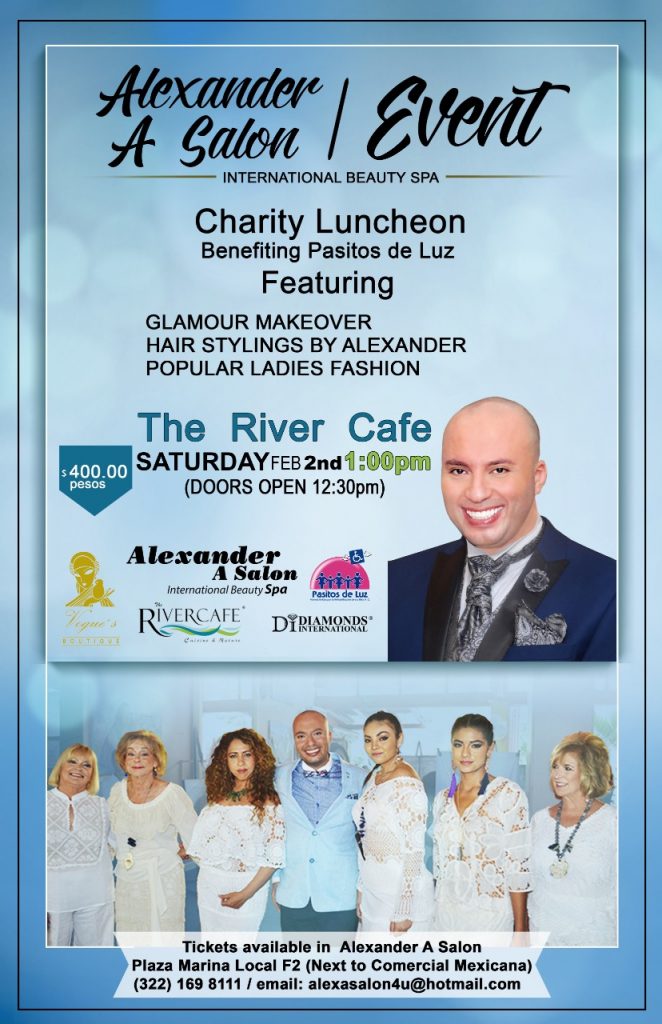 On Saturday 2nd February at 1.00pm, the ever-welcoming and always stylish River Café, located on the lush green Isla Cuale in downtown, is hosting our second annual Charity Luncheon, supported by Alexander A. Salon, Vogue's Boutique and Diamonds International. Socialise with friends and find that perfect new look while giving back to the Puerto Vallarta community that we all love so much.
Make-over contest
One of the most popular features of the Charity Luncheon is the make-over contest. This year's luncheon will feature TWO LUCKY WOMEN who will each receive a makeover by Alex! If you are ready for a change, and/or just feeling bold… email a headshot of yourself to . This is a really fun experience, so don't be shy.
Fashion Designs
This year's models will showcase the glamorous fashion designs of Delia Gonzalez, owner of Vogue's Boutique. Her beautiful, classic apparel always includes a lovely touch of Mexican tradition in each piece.  Her designs are found throughout Mexico, and also in select cities in the U.S.  Her local store, "Vogue's Boutique," is located in Plaza Marina. Gorgeous jewelry from Diamonds International will also complement Delia's beautiful designs!
Diamonds International is a great supporter of this event, and will have some special "sparkles" available for purchase. Melissa Schroeder, the "sparkle expert," will be Mistress of Ceremonies this year!
About the Charity Luncheon
The 2nd Annual Charity Luncheon is being held at the beautiful River Café on the River Cuale in Old Town on Saturday, February 2, at 1:00 pm. Doors open at 12:30 pm, and a 3-course lunch will be served at 1:00 pm. A "no-host" bar will be available. In addition to the beautiful fashion designs and jewelry, guests can participate in a silent auction, featuring lots of donated items and services! Last year's fashion show netted over $56,000 pesos for Pasitos de Luz.  This year, Alexander is aiming for $100,000 pesos (or more)!
There will also be a 50/50 raffle, live and silent auctions of artwork and fabulous experiences, plus great door prizes. What more could you ask for?
Yes please! How can I get my ticket?
Tickets are now on sale, priced at just $400 pesos per person. For tickets, just call Cindy on 322 429 3470 or email
We'll see you at the River Café on Saturday 2nd February!
Some photos from last year's 1st Annual Event…